It Is The Season To Hunt Egg In Final Fantasy XIV
Final Fantasy XIV
Date: Mar/23/18 16:47:20
Views: 77
The online RPG "Final Fantasy XIV (FFXIV)" developed and operated by SQUARE ENIX Co., Ltd. will hold a limited-edition seasonal event "Hatching-tide" that can be enjoyed in the game from now.
Also, from April 2 (Monday), FFXIV and Pasera Resorts' collaborative concept cafe "Final Fantasy Eorsea Cafe (" Eorsea Cafe "below Tokyo, Akihabara, Osaka, Namba) also limited the "Hatching-tide" menu will appear. Please enjoy together!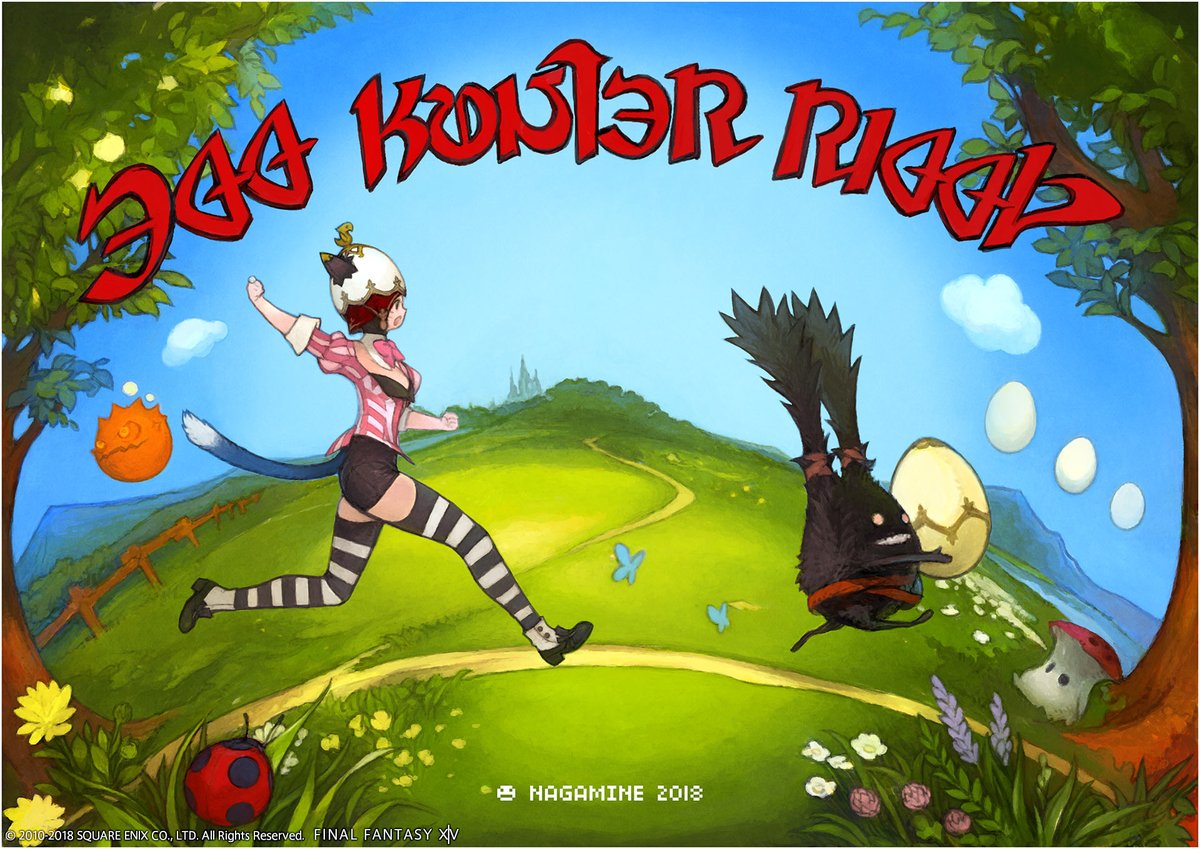 Follow the stolen egg!
The festival "Hatching-tide" sponsored by Mih Khetto's girl "Jihli Aliapoh" is very popular for playing with people searching for decorated eggs with gifts. The beginning of the first place was to start an event in reality as announced by the mysterious "dream" that Jihli saw. In fact, friends who love Jihli are striving behind the scenes to reproduce their dreams every time... it is a secret to Jihli. But this time it is a giraffe that we have not seen the dream of the announcement. Furthermore, some decorated eggs made hard are stolen by someone, what will happen to "Hatching-tide"?
"Hatching-tide" can enjoy colorful pop streets, and you can play quests with seasonal rewards. Please be sure to join us for a limited time until April 2 (Monday)!
Seasonal Event "Hatching-tide" Outline
Duration: around March 20 (Tuesday), around 17:00, 2018 - around April 2, 2018 (Monday) around 23:59
Quest Order: Egg Hunt's Major Incident
Order place: Gridania: Music Hall NPC "Nonotta"
Order condition: Level 15
Seasonal quests can be ordered and advanced as long as events are held.
Please note that it can not proceed after the end of the holding period.
Seasonal event "Hatching-tide special site
http://sqex.to/tuU
Items that you can get with "Hatching-tide"
From April 2, even at Eorsea Cafe "Hatching-tide"
Limited menu appears! "Valentium Day" limited menu appears!
In conjunction with the holding of "Hatching-tide", we will also hold a seasonal event at Eorzea Cafe. A special menu that imagines the event appears, and a special luncheon mat is given to everyone who visited us during the period! Please also enjoy "Hatching-tide" at Eorsea Cafe.
Eorsea Cafe Seasonal Event "Hatching-tide" Outline
Duration: April 2 (Mon) - May 6 (Sun)
Venue: Final Fantasy Eorsea Cafe Akihabara / Osaka
Entry method: Entry reservation ticket. Entry reservation tickets are on sale until April 15 (Sun). Admission tickets from April 16 (Monday) to Monday 30 (Monday) will be on sale from April 1 (Sun) AM 10: 00.
Release site: http://sqex.to/uPD
Details such as menu information and image images will be announced at the Eorsea Cafe official website at a later date. Please wait for the next report.
Eorzea Cafe Official Website
http://sqex.to/ff14cafe
If you need gils while playing in FFXIV, you can buy gils on ffxiv4gil. You can get 2% discount with code if you buy FFXIV Gil on FFXIV4GIL.